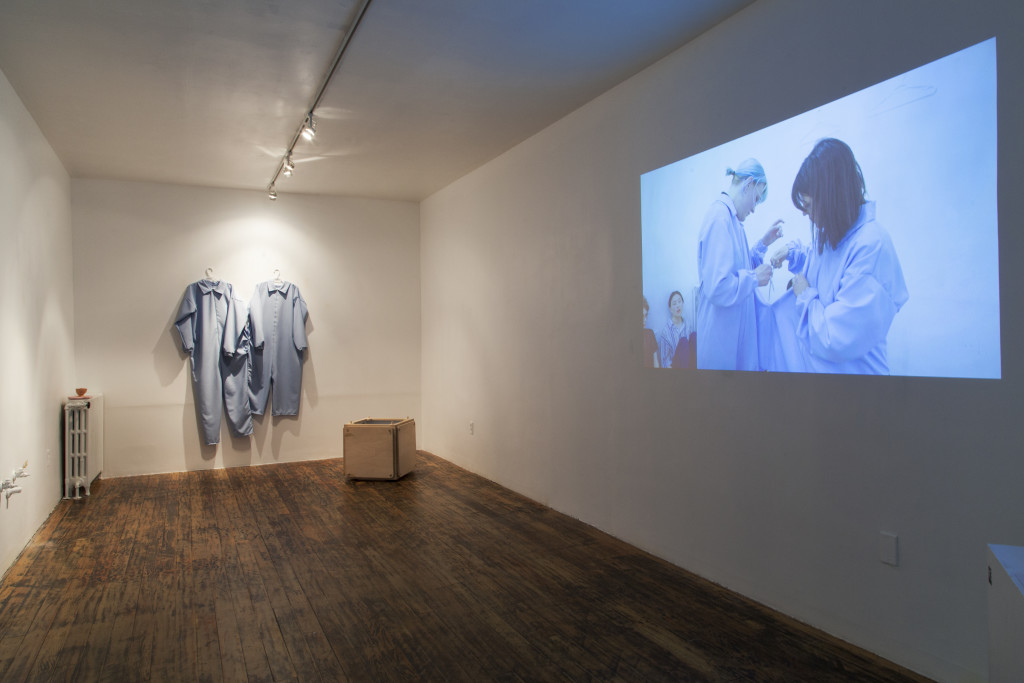 Collaborators Gloriya Avgust and Marika Vandekraats come together again after a prolonged moment of separation in a performance with Number 3 Gallery at CSA Space. Companion, stemming from the latin 'com' and 'panis' quite literally means together with bread. Whilst not visibly present in the collaborative performance and accompanying publication, this idea of breaking bread remains pivotal to the project's inception. During their time apart the artists used bread as the conduit for collaborative art making, a tie between their practices despite physical distances.
Continuing a dialogue raised in past work, Avgust and Vandekraats intimately enact a series of gestures which speak to ideas of friendship, womanhood/femininity, distance and co-existence. The attached suits made for this piece situate the two artists in an awkwardly unified position. Therein they are challenged to navigate movement as they proceed to enact motions which evoke love and care towards the accompanying objects.
Through moments of conjunction and separation, the performance is symbolic of the artists' shared experience which began while Vandekraats lived in Rotterdam in 2017. Their past work considers similar interactions with the objects, found fabrics and sculptural elements which, through echoed movement, reveal the quiet intimacies that connect their practices.
Project was shown with #3 Gallery at CSA Space in Vancouver, BC.
Video documentation courtesy of Sahand Mohajer.